We hope you are having a good weekend and managing to keep cheerful.
This week we will be concentrating on those people in the childen`s lives that do so much for them and are so special.
'Our Mums'
The children will be reading Mum stories and talking about all the things that Mums do for them. They will be making a card and painting a lovely picture of their Mums. They will also be lacing hearts and trying to write Mum.
This week our focus book will be
"My Mum is fantastic"
by Nick Butterworth.
This week's home challenge has a writing focus.
Can you write your name?
Have a try and write your name
If you can or nearly can, bring it into Nursery and we will give you one of these lovely 'I can write my name certificates'.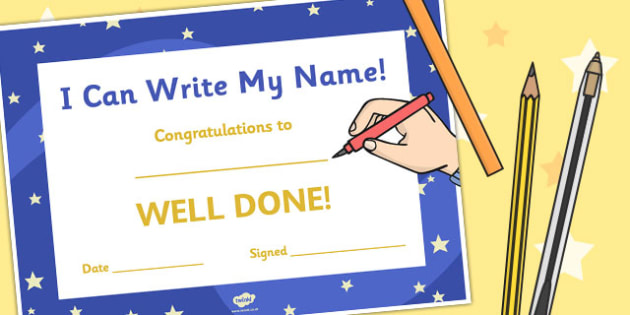 On Friday we are hoping to hold our Mothers Day Stay and Make. Parents are invited to either stay when you drop off in the morning or attend up until 10.30 a.m and between 1.00 and 2.30.
There will be a range of activities for your child to do.
This will of course depend on any new guidance we receive about coronavirus
Coronavirus Update
We are receiving daily updates about the coronavirus implication for schools.
There is currently no cause for concern at the school, but we will keep you informed about any developments and ensure we are keeping the school clean to prevent the spread of any virus.
We are encouraging more thorough handwashing for the children.
In order to prevent the spread of infection
Make sure you and your children follow these general principles to prevent spreading any respiratory virus:
Wash your hands often – with soap and water for at least 20 seconds, or an alcohol-based sanitiser if soap and water aren't available
We have been singing this song with the children
https://www.youtube.com/watch?v=dDHJW4r3elE&vl=en
Avoid touching your eyes, nose, and mouth with unwashed hands
Avoid close contact with people who are sick
If you feel unwell, stay at home and don't attend work or school
Cover your cough or sneeze with a tissue, then throw the tissue in a bin
Clean and disinfect frequently touched objects and surfaces in the home
The Department for Education has launched a new helpline to answer questions about COVID-19 related to education and early years.
Staff, parents and young people can contact the helpline as follows:
Phone: 0800 046 8687
Email: DfE.coronavirushelpline@education.gov.uk
Opening hours: 8am to 6pm (Monday to Friday)
If you're worried about your symptoms, please call NHS 111 – don't go directly to your GP or other healthcare environment.
We now have the opportunity for our morning children to attend additional afternoon sessions if you have an appointment. These will cost 15 pounds for the extra lunchtime and afternoon session.
Bookings must be made by 12p.m on the previous Friday. Please talk to Nursery staff if you need some advice with this.
We will continue to listen out for good manners this week. We are proud of how well the children are using them and so many more are saying a lovely good morning.
Request
If anybody has any sound books or comics that their child no longer needs we would be very grateful for them.
If your child could borrow a book from our class lending library and then if you could send us a photo and a short comment about your child and how much they enjoyed sharing their book. We now have 12 of our children and we would really like some more.
We will then print the pictures off and share them in the Nursery the pictures look wonderful.
Please send the photos by email to
eyfs@mead.havering.sch.uk
We will be asking the children to find their name when they come in each session and add it to the tree. The children brought home their name card at the end of the last session, if you can help your child to be able to recognise their name and if they are ready start to write their name. We would appreciate it.
The Newsletter will also be published on the EYFS blog. You can view this from the school website:
http://www.mead.havering.sch.uk
or by following the school facebook page.
Please email staff if you have any queries on
eyfs@mead.havering.sch.uk
or feel free to pop in and see us if you have any concerns.
Kind regards,
The Nursery Team
Some of our lovely children busy at Nursery this week growing a seed and making their own bumble bee.